We started this business concept off with faith, it was a very immature faith, but faith nonetheless.
King of Trades LLC was started from a concept of an old saying, "A jack of all trades is a master of none. This saying got cut short as well and originally said: "A jack of all trades is a master of none, but oftentimes better than a master of one." Unlike what our version would lead you to believe, having multiple interests but not being an expert in anything could actually prove advantageous. After hearing this saying many times through my childhood I decided to name the company King of Trades to jokingly poke fun towards my father quoting the short version. My father is an exceptional designer and many considered him to be one of the most brilliant architects of his time. His designs have been honored winning him a Mame Award as a result of his Architectural concepts not only being visually appealing but also built structurally sound. This leads my father into becoming a superb craftsman builder. So, in a moment of brilliance, after hearing the saying for the umpteenth time I thought to myself, "fine I will just be the King!"
Our goal is to perform quality work in all aspects of construction making a point to find people with a variety of skills who needs help and give them the opportunity to gain consistent knowledge, training, and understanding. These are some keys to being happy and honest (the ability to feel needed and respected while learning). Our goal is to be a company that creates leaders from the training and experiences received.
Therefore, King of Trades was a concept that became a business I worked towards creating; taking on many different roles to gain knowledge and experience. Before I established King of Trades I spent over 12 years in the field as the Laborer, Skilled Carpenter, Foreman, Sales rep., etc. All these work experiences helped me formulate the plan that we currently use for our success.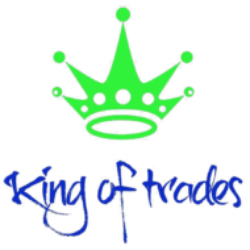 These mantras and help from God have helped me alleviate the pressures of perfection I put on myself and have allowed King of Trades to flourish. Thank you